Fast World Phone Card Review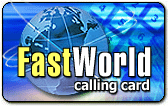 You're looking for the combination of low cost and high quality among prepaid calling cards? Then you'll probably take an interest in Fast World phone card from ComFi.com.
Truly, no card is perfect. But to my surprise, I didn't find any demerit in this remarkable card. Maybe you'll find one. Look at this...
Fast World card has no the first two fees - connection and maintenance fees. The third fee - rounding is not large - 1 minute. By the way, AT&T calling card has the same rounding.
The fourth fee - service tax is 15%. It's not large too. It's usual for the majority of phone cards and so must not be considered as a demerit.
Did I forget anything? It seems nothing.
Fast World phone card is available for calling from foreign countries to the United States, as well as between foreign countries. It can be used to make international phone calls from over 100 countries. The card has both local and global toll-free access to particular cities in many countries. On that features, it seriously competes with AT&T.
Sometimes I compare with AT&T calling card because it is a standard. Everything is viewed better on that radiant background.
Fast World calling card has low per-minute rates. They are 70 to 90% lower than those of AT&T from most locations.
And what's more, among its numerous merits there is else one - recharge option.
Finally, Fast World has nearly as high sound quality as AT&T card, but... note:
at a fraction of the cost!
That's all. Did you see anything looking like demerit? Indeed.
You can use Fast World phone card calmly, without hurry and worry about card's balance going down if you do not call. Because it has no maintenance fee.
With Fast World, you can quietly speak over the telephone. You do not need to track your call minutes, worrying about call time losing with minute rounding because it is not large.
Buying Fast World, you receive a major competitor with AT&T. Every time you receive one of those pleasant combinations of low cost and high quality, which we always dream about and which make us a little happy.
For more information view Details of Fast World Phone Card.